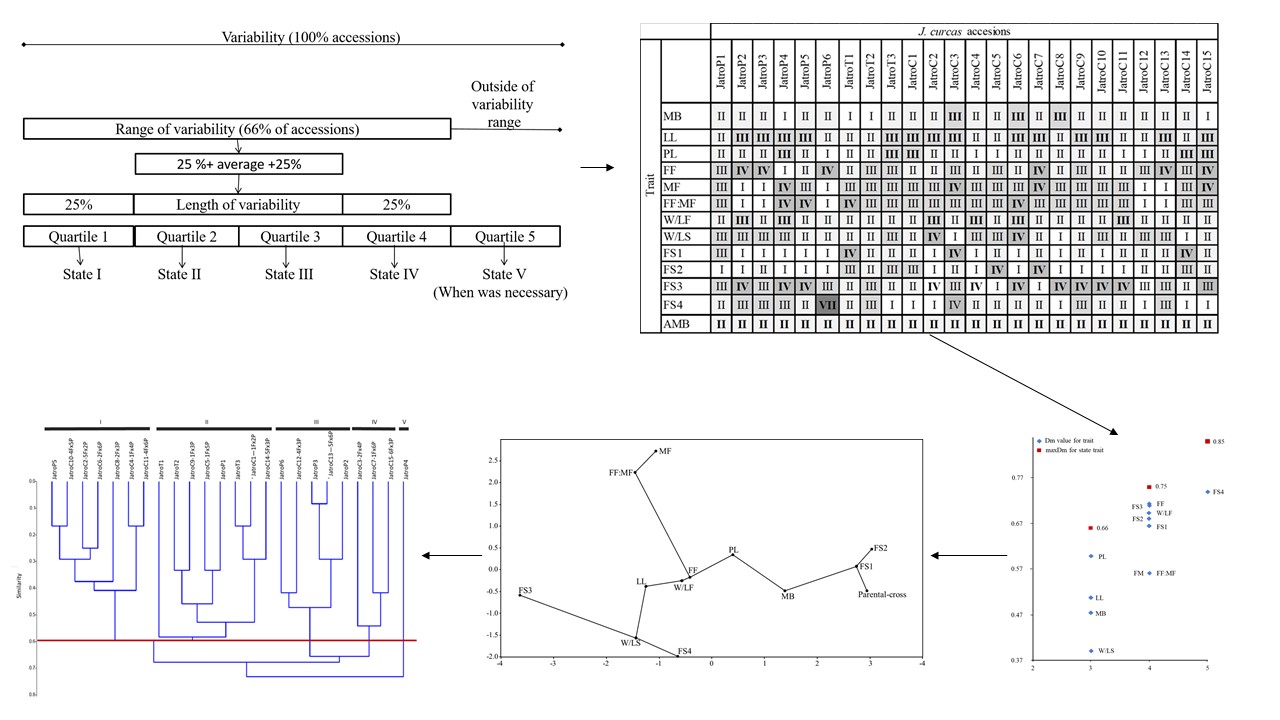 ASSIGNING MORPHOLOGICAL TRAITS AS DESCRIPTORS FOR DIFFERENTIATION BETWEEN Jatropha curcas ACCESSIONS
Abstract
Background. The morphological characterizations and varietal descriptions of Jatropha curcas do not consider all morphological variability of this species. The phenotypes of J. curcas that have been described represent only a part of the variability of this species, making it difficult to distinguish between accessions based on morphological traits. Objective. Propose a method to assign trait states to discriminate between accessions based on their phenotype, and to evaluate the efficiency of these phenotypes as morphological traits. Methodology. Thirteen morphological traits were selected, and trait states were assigned according to their variability. Implications. The results show that some traits, such as the number of male flowers and the ratio of male to female flowers provide redundant information, while other traits do not provide information with enough discriminatory power. By other hand, trait associated with the frequency of one, two, three or four seeds per fruit set the pattern for the identification of phenotypes. Conclusion. The proposed method allowed to use the variability of traits as a descriptor without limiting the use of morphological traits not included in this work. 
Keywords
Morphological characterization; Discriminatory power; Trait states; Similarity between accessions
URN:
http://www.revista.ccba.uady.mx/urn:ISSN:1870-0462-tsaes.v23i2.3076
DOI:
http://dx.doi.org/10.56369/tsaes.3076
Copyright (c) 2020 Ana Luisa Ramos-Díaz
This work is licensed under a
Creative Commons Attribution 4.0 International License
.